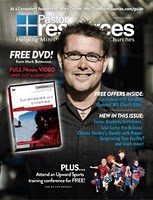 "Pastor Resources" magazine released with Mark Batterson and the S&U DVD on its cover. Baker Books is giving away the S&U DVD to the first 500 pastors who fill out the request form. You can go there now and check out the magazine online. Hint, it is on page 51.
In conjunction with the magazine release, they have set up a special page on the S&U website where you can go and watch chapter three of S&U "Awaken Your Soul at the Edge of the World" as well as download the corresponding chapter of the Participants Guide. To go to this page CLICK HERE
They have made chapter one of Jason Clark's book, "Surrendered & Untamed, A Field Guide for the Vagabond Believer" available for download.
CLICK HERE
Don't forget to check back her often for the latest on
S&U
.  I will be posting a Review of the Book soon.  To view all posts related to Jason Clark's new book just click the post tag
Surrendered and Untamed
.