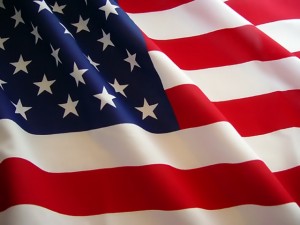 When I snap my fingers you will wake up and believe everything I've said to you…
When I was in elementary school I remember the excitement and profound sense of pride I had to be an American.  I loved learning about the branches and offices of Government and the incredible history of our nation.  There was a great feeling of patriotism as I put my hand over my heart, faced the nation's flag and said the pledge of allegiance. There was comfort and strength as we studied the various speeches of our founding fathers and documents ratified by our government giving supreme submission to God through whom they attributed authority and providence.
It has been many years since that time.  I have to admit I miss that feeling.  I love my country. I respect the office of President as I feel it is my duty to give honor to authority and seek to pray for God's providential will.  I however grow increasingly disappointed at how far we have strayed from the grace and stature of our founding fathers and their vision for a great nation.
With the polarization of our nation being more galvanized by our recent Presidential election, the increase of private and public failure of governing officials and the present atmosphere surrounding the nearing 2010 mid-term elections, I grow sick and find myself grieved for the nation that our founders risked life to establish and build with faith in God and hope for a better life free from the oppression of Government.  And though we have grown and advanced, I don't know that we are better for it.
I was greatly disturbed over the recent media storm surrounding a comment by Republican candidate Christine O'Donnell and comments made in a debate with Democratic opponent Chris Coons at Wedener University Law School.  Ms. O'Donnell asked Mr. Coons "Where in the Constitution is the separation of Church and State?"  The response of the audience (law students), Mr. Coons and all of the liberal Media reveals something about the nature and agenda of today's secularist. 
The Wedener University audience laughed as Mr. Coons said in condescending tone, "It's the first Amendment."  Secularists ignore or seek to reinterpret history to support the conclusion they desires.  Those who follow this line of thinking seek to change through force and where they cannot force they indoctrinate.
The indoctrination of people in America is amazing as evidenced in this debate.  Ms. O'Donnel was correct.  It is neither in the Constitution nor in the First Amendment.  It is frightening to hear the ignorance in the laughter of our promising future lawyers and lawmakers. 
When I was a kid the phrase used was "freedom of religion."  Somewhere along the way this became "separation of Church and State", which totally distorts the actual meaning of the First Amendment.  I don't believe this change of phrase is by accident.  It is part of the secular agenda to dumb down Americans and distort the understanding of our History and the true intention of our framers.
So here it is…
"Congress shall make no law respecting an establishment of religion, or prohibiting the free exercise thereof; or abridging the freedom of speech, or of the press; or the right of the people peaceably to assemble, and to petition the Government for a redress of grievances." 1st Amendment
The 1st Amendment limits Government, specifically congress, in the affairs of Religion, but protects freedom of religion. This is not a separation. It means government cannot establish a state/national religion likened to that from which our founders fled in the Church of England and the abuses of English Governmental power. The founders had a vision and hope for a nation which sought to preserve the freedom of the individual, such as the freedom to practice religion and government's non interference thereof.  This did not mean God not being involved in Government or the separation of an official's faith and governance.
To those who would question this, the following is President George Washington's address eight days following the enactment of the 1st Amendment.  Congress asked the President to address the nation regarding the achievement of our US Constitution and the first ten Amendments.  This is what he had to say to all of us about what they meant and what they believed.  I don't think we need anything but history to give a true interpretation of the intents and beliefs of our founding fathers and the framers of our nation.
A NATIONAL THANKSGIVING.

[From Sparks's Washington, Vol. XII, p. 119.]

Whereas it is the duty of all nations to acknowledge the providence of Almighty God, to obey His will, to be grateful for His benefits, and humbly to implore His protection and favor; and

Whereas both Houses of Congress have, by their joint committee, requested me "to recommend to the people of the United States a day of public thanksgiving and prayer, to be observed by acknowledging with grateful hearts the many and signal favors of Almighty God, especially by affording them an opportunity peaceably to establish a form of government for their safety and happiness:"

Now, therefore, I do recommend and assign Thursday, the 26th day of November next, to be devoted by the people of these States to the service of that great and glorious Being who is the beneficent author of all the good that was, that is, or that will be; that we may then all unite in rendering unto Him our sincere and humble thanks for His kind care and protection of the people of this country previous to their becoming a nation; for the signal and manifold mercies and the favorable interpositions of His providence in the course and conclusion of the late war; for the great degree of tranquility, union, and plenty which we have since enjoyed; for the peaceable and rational manner in which we have been enabled to establish constitutions of government for our safety and happiness, and particularly the national one now lately instituted; for the civil and religious liberty with which we are blessed, and the means we have of acquiring and diffusing useful knowledge; and, in general, for all the great and various favors which He has been pleased to confer upon us.

And also that we may then unite in most humbly offering our prayers and supplications to the great Lord and Ruler of Nations, and beseech Him to pardon our national and other transgression; to enable us all, whether in public or private stations, to perform our several and relative duties properly and punctually; to render our National Government a blessing to all the people by constantly being a Government of wise, just, and constitutional laws, discreetly and faithfully executed and obeyed; to protect and guide all sovereigns and nations (especially such as have shown kindness to us), and to bless them with good governments, peace, and concord; to promote the knowledge and practice of true religion and virtue, and the increase of science among them and us; and, generally, to grant unto all mankind such a degree of temporal prosperity as He alone knows to be best.

Given under my hand, at the city of New York, the 3d day of October, A.D. 1789.

GEORGE WASHINGTON.    (Note 1.)

It is clear what Historical Government meant and it is not what today's Government wants us to understand and nor what most Americans understand, sadly.

Just because the crowd is going in a certain direction doesn't mean you have to follow without asking where they are headed and thinking, "Will I really like it there?"

When I snap my fingers, you will wake up and think intelligently for yourself…

Note:

Vol 1. Messages and Papers of the Presidents, p. 64 (1896).